​Home, A Loan: The Blog​ > Oh, Baby! Adjusting Finances for a Growing Family
​
​A new additi​on to the family can be a joy. But if you're already on a tight budget, you should understand the financial impact children can make. The federal government estimates the cost of raising a child in a middle class family to age 17 is more than $230,000. Learn more about some costs you may want to prepare for with children.
​​​​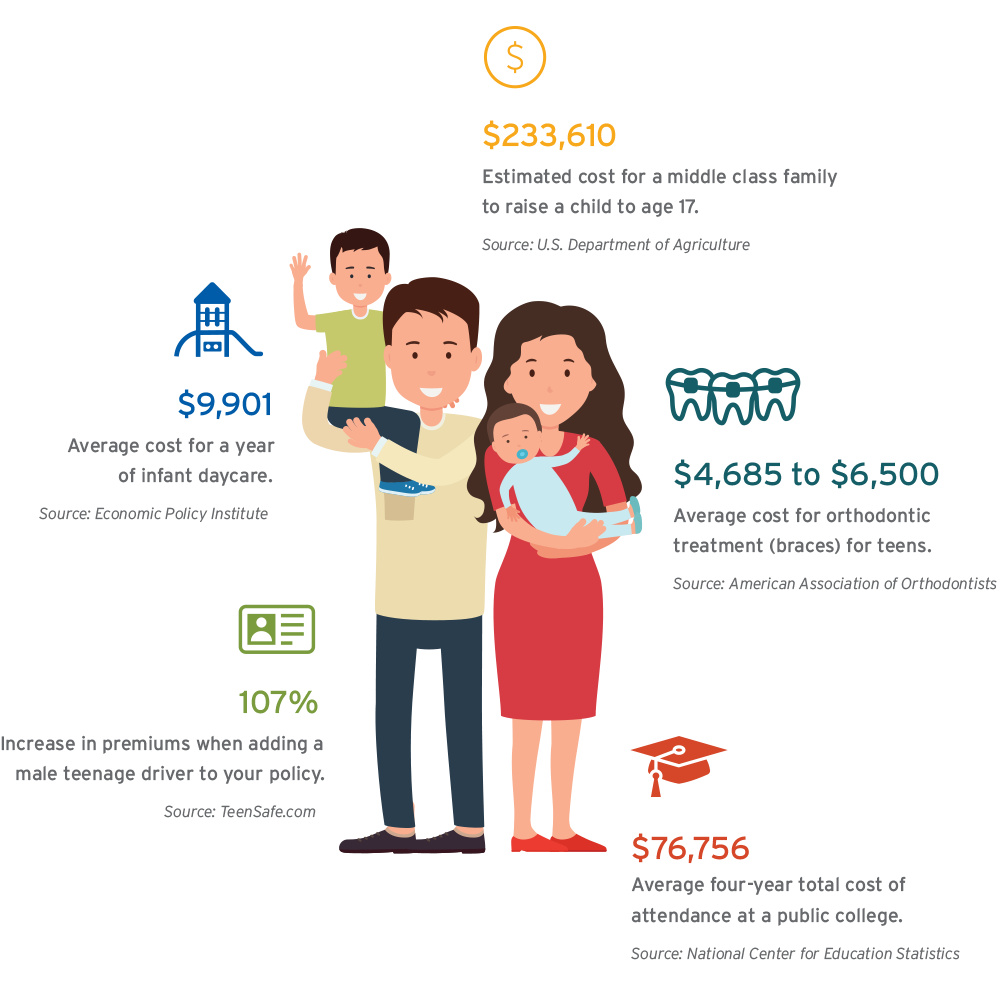 ---
​
Congratulations! It's a boy! Or a girl! ​​It's also a big financial responsibility.
Having a child can be a joyous time, but it also means big changes. For one, you can forget about a full night's sleep for a while, and in about 17 years your bundle of joy is probably going to back your car into a light pole or your garage door.
But it also means big changes to the family finances. If you're already on a strict budget, the birth of a child may mean it's time to take a hard look at where your money is going, what you're saving for, and how you'll make adjustments.
A quarter of a million b​​ucks
First, the big number. According to the latest version of the U.S. Department of Agriculture's "Expenditures on Children By Families," which is based on 2015 data, the cost for a middle-income family to raise a child from birth through age 17 is $233,610.
Notice, that doesn't include college. The national Center for Education Statistics reports that in 2015-16, the average total cost of attendance at a four-year, public college was $19,189 a year.
And those costs start right from the beginning. Consider day care. The nonprofit, nonpartisan Economic Policy Institute maintains an interactive website to give you an idea of what day care costs by state. Costs vary dramatically, but no matter how you look at it, having someone take care of Junior is expensive, anywhere from an average of $4,822 per year for an infant in the cheapest state, Mississippi, to $22,631 a year in the priciest market, Washington, D.C. That's 28% more than the average annual rent there.
So what can y​ou do?
If you aren't sure how ends are going to meet, bills will get paid, and savings will grow along with your family, the federal government's MyMoney.gov page can be a good place to get started. The site makes it easy with a discussion of "My Money Five," five basic discussions about the principles of money: earning, saving and investing, protecting, spending, and borrowing.
It also offers links to other helpful sites as you build your knowledge and money management skills. There are even links to trusted sites on buying a home, home improvement, and tools such as budgeting worksheets and financial calculators.
Curious about where you stand? The Consumer Financial Protection Bureau has an online, interactive "financial well-being" quiz to help you get an idea of how you're doing in your financial life, and where you stand among your peers.
Social Security numbers​ for baby
One of the first things you'll want to do is get your new arrival a Social Security number. No, he or she isn't going to get a job on day one, but you'll need it to claim him or her as a dependent on your taxes. If your child is born late in the year and you don't have a number in time to file taxes, it gets tricky, but you can file for an extension. The IRS has information online here.
The easiest time to enroll is when you file information for a birth certificate while you're still at the hospital. If you wait, there could be delays. Having a Social Security for your child can also help you buy savings bonds for him or her, open a bank account, and sign up for medical coverage. And don't worry, applying for a Social Security number and card is free.
Most popu​​lar baby names
Whether you want your baby to run with the "in" crowd or stand apart, here are the most popular baby names for 2017 according to the Social Security Administration.
Boys: 10) Jacob 9) Oliver 8) Elijah 7) Mason 6) Benjamin 5) Logan 4) James 3) William 2) Noah … and the most popular boys name, for the first time ever, Liam. Notice that Michael fell out of the top 10 for the first time since World War II.
Girls: 10) Abigail 9) Evelyn 8) Amelia 7) Charlotte 6) Mia 5) Sophia 4) Isabella 3) Ava 2) Olivia … and at number 1) Emma. Evelyn marks the first time in the top 10 since 1915.
As you consider names, you can see how popular a moniker is at socialsecurity.gov/babynames.